Who we are
John Ayling & Associates Limited ("JAA") is the operator of the Website and the legal entity responsible for the data collected from you via the Website. Our website address is https://www.jaa-media.co.uk.
We respect the privacy of users of our website and recognise that when you choose to provide us with information about yourself, you trust us to act in a responsible manner with that information. This Privacy Notice contains important information about how we use your personal data, it is important that you read this Privacy Notice together with any other privacy notice or fair processing notice we may provide on specific occasions when we are collecting or processing personal data about you to ensure you are fully aware of how and why we are using your data. This Privacy Notice supplements the other notices and is not intended to override them. If you do not agree with our policies and practices, you should not access or use the Websites. By accessing or using the Websites, you agree to this Privacy Policy. If you have questions, you can always contact us below.
This notice outlines how and why John Ayling & Associates Ltd collects and uses personal data specifically from visits to the John Ayling & Associates website:  www.jaa-media.co.uk
This notice also explains your rights and how to exercise these rights.
WHAT WE COLLECT ABOUT YOU
We process the personal data of clients, prospects, enquirers, suppliers and workers. We may collect, store and use the following personal information about you:
Contact information (name, email address, job title, company, country)
Cookie ID/IP address/Brower/device ID/Location data
Curriculum Vitae (contract information, job history, nationality)
We collect information that enables us to identify your browser and device and tell us which pages within our Website you visit and on which pages you spend the most time. We do this by using the following:
Cookie: is a small alphanumeric text file that we automatically assign to visitors to our website. It is stored in your browser and allows us to identify your interaction with us. Sometimes a cookie resides on your device for just the single time you're visiting our Website; this is called a session cookie. Sometimes a cookie remains on your device until you delete it or it expires automatically; this is called a persistent cookie. Both types of cookies are used on our Websites.
IP address: means Internet protocol address

Specific Cookie Type used by JAA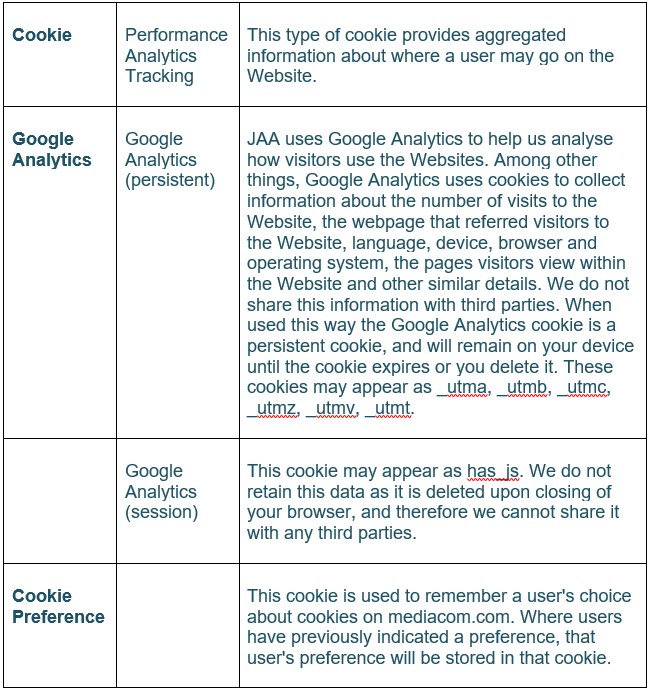 You can prevent use of cookies through your browser settings. By choosing not to accept cookies, certain Website features may not work as some or all of this information is used to improve your website experience by delivering content that you are likely to prefer on future visits.
WHO WE SHARE YOUR DATA WITH
JAA does not share your personal data with any third parties.
HOW LONG WE RETAIN YOUR DATA
We will keep your data for a reasonable period for the purposes set out above. We follow generally accepted online advertising industry standards to ensure that your personal data disclosed to us is kept secure, accurate and up to date and kept only for so long as is necessary for the purposes for which it is used. These standards include undertaking necessary physical, electronic, and management activities required to protect data integrity, access, and use.
WHAT RIGHTS YOU HAVE OVER YOUR DATA
You have the right to ask us not to process your personal data for marketing purposes. We will usually inform you (before collecting your data) if we intend to use your data for such purposes or if we intend to disclose your information to any third party for such purposes. You can exercise your right to prevent such processing by checking certain boxes on the forms we use to collect your data. You can also exercise the right at any time by contacting us at info@jaa-media.co.uk.
You also have the following rights in relation to your personal data (some of these rights apply only in certain circumstances, and some of them vary according to the legal basis on which we are processing your data – please see above for further details):
The right to ask whether we're processing your personal data and, if we are, to find out details of that processing (as well as obtaining a copy of your personal data).
The right to ask us to correct any personal data that we hold about you that's inaccurate or incomplete.